As an industry leader of building technology, Siemens helps set the standard for building safety and energy efficiency. Watch this brief video to learn more.
Siemens is a manufacturer of building technology that offers energy-efficient infrastructure solutions used in buildings all over the world. Product lines include a diverse range of solutions designed to meet the commercial, industrial and institutional building needs of nearly any size and purpose. The open communication standards used in Siemens products allow users to integrate heating, ventilation, air conditioning, lights and blinds and safety features, as well as an assortment of other building control equipment. Siemens' innovate products help organizations save energy, reduce costs and simplify energy management, while simultaneously improving interaction between various components.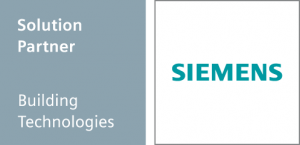 You don't have to sacrifice comfort to reduce energy consumption. For more information about Siemens products contact us today.
Contact Us