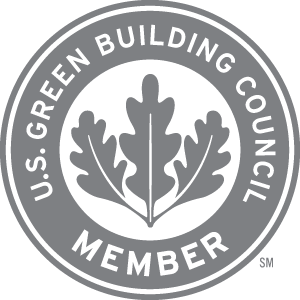 A LEED AP (Leadership in Energy and Environmental Design Accredited Professional) has received advanced green building practices education. They also specialize in a particular
LEED Rating System.
What is LEED Certification?
In 1993, the U.S. Green Building Council (USGBC), a nonprofit that promotes sustainability in buildings, officially developed its Leadership in Energy and Environmental (LEED) standards as the basis for the sustainable design, construction, and operation of buildings.
Since their inception, these benchmarks have focused on:
Building materials
Energy efficiency
Waste reduction
Environmental awareness
Pollution control
Sustainability
Overall improvement in quality of life for humans, plants, and animals
Buildings can receive LEED certification by meeting or exceeding certain technical requirements. One or more points are earned towards certification for each technical requirement that is attained. Four different levels of certification can be achieved based on the total points earned.
Benefits of LEED
LEED-certified buildings have a considerable impact on the environment, using less energy and other resources without generating potentially harmful waste.
Other benefits include:
Environmentally Friendly – Any building constructed to LEED standards will enjoy perks such as increased energy efficiency including:
Reduced water waste
Lower resource waste
Sustainable construction
Eco-friendly materials
Improved Health – LEED-certified buildings have greatly improved indoor air quality over traditional buildings. This is due in large part to how the doors, windows, and walls are built. Special attention is paid to ventilation and ensuring that outdoor and indoor air stay where they belong.
Also, since the materials used in the building are from sustainable and environmentally-friendly sources, you can be assured of their high quality. Specifically, they won't leech chemicals into the building, causing a health hazard.
Federal Tax Credits – Along with reduced water and electric bills, this helps offset the cost of becoming LEED-certified.
Reduced Repairs – When building a LEED-certified building, the builder is only using the best materials and top-rated construction processes. The building will be structurally sound, which means there's a much smaller chance of needing regular repairs.
How Going Green Makes Cents
Designing automated building systems to maximize energy performance reduces overall costs. HVAC, lighting, and elevator systems are just a few examples of components a smart building controls.
Some of the benefits include:
Reduced power consumption
Reduced power usage
Reduced materials
Optimized energy performance
Importance of LEED Accredited Professionals
To earn credits as a LEED-certified building, a member of your team must be a LEED Accredited Professional (LEED AP) with the appropriate specialty for the specific LEED rating system.
The LEED certification process relies on a detailed understanding of LEED, so having a LEED AP with the right specialty onboard benefits the project and can save significant time and effort. LEED APs are trained to spot the synergies that occur between different sustainability strategies and their respective LEED credits. As a bonus, the LEED AP earns your project a point with this credit.
LEED v4 requires the LEED AP to be a "principal participant of the project team," but the exact definition of what that means is up for interpretation. Ideally, the LEED AP would be closely involved in the project through its duration, but USGBC does not have a history of scrutinizing the level of LEED AP involvement to award this credit.
Green building practices continue to be developed and are becoming more popular as sustainability concerns rise. If green building standards were to be adopted on a widespread basis, their effect could change the building industry for the better.
Click below to see how we can help you build a better tomorrow.