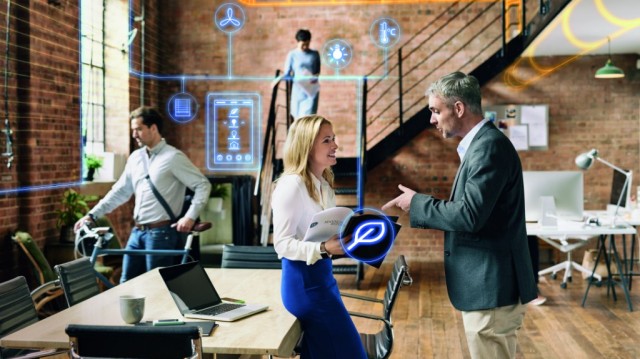 As an independent contractor, Mid-Atlantic Controls represents a variety of control products and systems. As advocates of open systems, our commitment is to our customers. We provide the right system based on customer's needs – from HVAC to advanced building automation systems.
Our goals are to provide performance-based systems that maintain comfort and control while delivering a return on investment.
Here are a few of the systems are team can install at your facility:
We can help you enhance comfort, safety, and function at your facility with a wide variety of building management systems and solutions from Mid-Atlantic Controls.
Our systems can help eliminate downtime caused by broken parts or ill-performing equipment, as well as the hours spent on troubleshooting to diagnose a problem. By streamlining processes and creating a warning system for building maintenance, you naturally become more proactive than reactive when on the job.
Comprehensive Building Management Solutions
Our comprehensive building management services and options give you the insight you need to get the most out of your control systems, energy management systems and solutions, facility management software, and more.
Reduce wasted time while maximizing functionality with these building automation solutions.
Building Automation System
Cut out the hassle of adjusting building basics, such as lights, temperature, and locks by integrating them into a single, seamless panel. With a building automation system, you can adjust multiple features from any location for quick use and easy maintenance updates.
Energy Management System
In bringing automation to a building comes the added perk of lowering energy costs, no matter the size or function of the property. Reduce your building's consumption with an energy management system that delivers power monitoring to optimize energy efficiency. Systems are also accessible from a single, remote location for ease of use.
Access Control System
Get complete control by combining services, like HVAC, video surveillance, and other primary systems into one solid, user-friendly access control system. MACC enables you to access functions remotely and perform quick security checks, while simultaneously adjusting everyday controls when necessary. Streamline operations and productions, as well as eliminate the time spent on manual switches and control modifications.
Security Camera System
Equip your business with eyes that are on at all times. A smartly placed security camera system can create a heightened level of security to everyone on the property. MACC helps you achieve maximum security with safety and visibility from corner to corner.
Facility Management Software
With a facility management system, you gain data that is customized to a particular building's requirements. Proper maintenance and system updates allow you to make informed decisions with recommendations that are specific to your building or facility. In the long-term, you'll see those very simple modifications reduce overhead across the board.
Smart Room Control System
Take your cost-savings, comfort, and control to the next level. Distech's smart room control system is an end-to-end system that controls your room's temperature, lighting, windows, and more–including design and installation.
Total Room Automation (TRA)
The Total Room Automation system from Siemens is designed to help you get more from your biggest (and most expensive) resource: your people. With automation for room temperature, indoor air quality, lighting quality and much more, this system will boost employee happiness while saving you money and increasing productivity.
What Is It Like Working with MACC?
Improving Productivity & Functionality With Building Management Systems
With building management solutions like security automation, HVAC management, systems management, and more from MACC, you can improve your facility's output while saving time, energy, and manpower. Learn why companies across the United States trust our state-of-the-art building management systems and technologies.