Technology has allowed for seamless integration of various facets of building operations within a building. You can now control heating, ventilation, air conditioning, lights, and countless other equipment from a single panel.
MACC provides building automation systems (BAS) services, recommendations, and preventive maintenance for commercial, industrial, government and military facilities.
Working with such a wide array of clients means we're often adapting our building automation system offerings. We understand that not every client's BAS system needs are the same. We take pride in accommodating your specific needs regardless of your phase of planning or implementation.
By choosing MACC as your system integrator or building automation provider, you're choosing a team of industry experts. We have diverse capabilities and specialty experience to ensure all of your requirements are met on time and within your budget.
Learn More About Building Automation Systems:
Why Choose MACC?
Our Building Automation Design Team Provides:
First Cost Control
HVAC, Lighting and Security System Performance
Product and System Selection
Energy, Environment, and Social Aspects of Total BAS System Performance
Maintaining, Preserving, and Growing the Initial Investment in a BAS System
Post-Installation Service and Maintenance
Building Automation Construction & Project Management
Single Point of Contact Responsible For All Project Aspects
Professionally Trained in Project Management and Application Engineering
Schedule Oriented and Proactive
Automation System Application Engineering
Design to Meet Customer and Project Requirements
Improvement Recommendations Made Before Implementation Stage
Extensive Experience in Systems we Control not just Control Systems
Complete Design Documents Including Flow Diagrams, Sequences, Panel Layouts, and Point to Point Wiring
Panel and Pre-Fabrication Facility
Prefabricated Control Panels are Programmed and Tested Before they are Installed
Aids our Ability to Meet Project Schedules
Improves Overall Quality Control
Lowers our Installation Cost
Installation Services
Sel-Performed with Trained BAS and Security Teams
Always on Time and Ahead of Schedule
Professional, Well-Executed Installations
Technical Services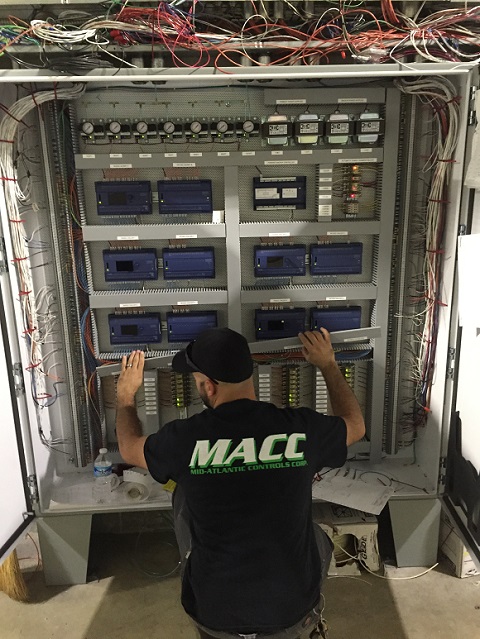 Graphics, programming, and startup are also self-performed to meet demanding schedules and performance requirements. All graphics and programming are prepared and tested in advance of project completion.
Our technicians are trained and certified in systems. Our knowledgeable team helps us provide expert startup and system operational solutions.
Building Automation System Performance
We strive to provide BAS system performance at the highest core value, exceeding any other service available in the industry.
Our insistence on top quality performance sets us apart from our competition.
BAS System Service and Maintenance
Once the BAS system is installed and accepted, we offer our clients a maintenance and service plan. This plan is customized based on your specific needs.
While a service and maintenance plan isn't required, we do highly encourage them. These plans keep your system running at its highest performance levels.
Legacy System Upgrades
Many owners must decide whether to upgrade or replace their current automation system due to progressing technology or developing operation needs.
When that time comes, MACC can help determine which automation system will best suit your needs. We have experience with almost every building automation system in use over the past 30 years. This allows us to offer confident advice to move forward from your present system.
What Is a Building Automation System (BAS)?
Building automation is a system of devices connected using system protocols.
Some examples of building automation systems you can control are HVAC systems, lighting, security, and card access.
Using data from these services, we can monitor building equipment to achieve the following:
Improvement in your facility's energy management and consumption

Increase in the efficiency of your overall building management

Reduction in operating costs across your facilities
Learn more about BAS systems from one of our technicians by watching this video.
Customer Reviews
Building Automation Service in Virginia

★★★★★ 5 / 5 stars

Rated By Paul Sexton, Building Systems Superintendent County of York

"So far MACC has converted 4 of our buildings from Staefa controls to Tridium N-4. Their sales, engineering, installation, and service personnel both during and since these projects have been outstanding.

They are a group of people with many years in the HVAC field. They know how systems are supposed to work and have made many upgrades in the logical programming to make our system much more efficient and user-friendly. This is far over what we would have imagined.

The staff has been more than willing to listen to us as customers and combine our suggestions with theirs. They've given us a product that has been seamless, flawless, and just plain works!

So far this has been a great experience and we are looking forward to working with MACC in upcoming projects. I am willing to talk to anyone, anytime, to answer questions you might have about our experience. MACC can get you in touch with me."
Discover More About Building Automation Systems
MACC is headquartered in Richmond, Virginia, but serves clients throughout the Mid-Atlantic region in the following locations:
Contact us to see if we service your area. You can also learn more about building automation systems or get an estimate for your commercial building or new construction project. Get in touch today.