Stay in control of your facility with scheduled building automation maintenance and service from MACC.
The benefits of routine maintenance for your building automation system include:
Equipment Optimization
Improved System Efficiencies
Fixed Budget
Reduced Operating Costs
With MACC maintaining your building control system, you can focus on the core needs of your business. We offer remote monitoring and our trained team just a phone call away. You can save more by choosing to be proactive, so don't wait until you need building automation maintenance.
Why Is Building Automation Maintenance So Important?
Top 10 Benefits Of Building Automation System Maintenance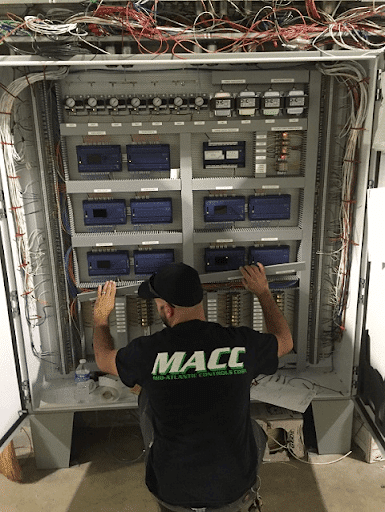 Preserve your investment. Predictive building automation maintenance monitors your system to ensure peak performance.
Reveal and correct control system issues. Real-time diagnostics detect potential issues long before they become noticeable in your operations.
Identify unrelated mechanical and electrical problems. Existing machinery and other hardware connect to your system's predictive maintenance system.
Reduce system disturbances and operational interruptions. Maintenance enables you to detect problems early, making repairs quick and simple.
Improve energy efficiency. Locate and resolve issues, so there's less strain on the system. This promotes clean and efficient operation.
Reduce energy costs. Predictive maintenance decreases energy costs without disrupting employee productivity.
Extend system life cycle and ROI. Maximize every investment in your company's infrastructure, and other hardware lasts longer.
Enhance user satisfaction. A high visibility process makes the control system a greater asset to your business.
Increase performance of controlled systems (e.g. HVAC, electrical, and security). Systems cycle on and off as necessary. Consistent early resolution of potential issues ensures smooth operation.
Achieve technological advancements. Recommended hardware and software upgrades keep your building automation system current.
| | |
| --- | --- |
| Learn More About Building Automation | We Service BAS Equipment from… |
If you don't see your BAS equipment manufacturers listed above, contact us to see how we can help.
BAS Maintenance Plans
Labor only Contracts (PML-Preventative Maintenance)
Labor and Parts (FM-Full Maintenance)
Annual and Multi-Year Contracts
Significant Reduction in Hourly Rates When Purchased Under a Contractor
Reduced Contract Rates for Extra Hours if Necessary
Contract Price Reductions on Any Parts Required
Preferred Customer Response Times Guaranteed
After-Hours and Emergency Services are Available to all Contract Customers
BAS Maintenance Reports
Issued Maintenance Reports with Service Performed
Recommendations for Improvements or Upgrades Offered as Needed
Fine-Tune your System for both Efficiency and Effectiveness with Actionable Expert direction
Understand How Resolved Issues Prevent More Costly Breakdowns Down the Road
Guaranteed Service and Customer Satisfaction
After Hours Emergency Service
24/7 Emergency Service is Available to all Contract Customers
Guaranteed Response Times are Available to Meet any Customers Needs
Get Priority Service with a Contract to Avoid Lengthy System Disruptions
Reduced Service Time and Material Rates for all Contract Customers
After Hours Services Reduce Losses from Down Times
Customer Testimonials
Exceptional company. My service BAS tech goes above and beyond the call of duty to make sure things are right. Very please with the service.

Davids1964

14:06 04 Sep 18

So far MACC has converted 4 of our buildings from Staefa controls to Tridium N-4. Their sales, engineering, installation, and service personnel both during and since these projects have been outstanding. They are a group of people that have had many years in the HVAC field so they know how systems are supposed to work and have made many upgrades in the logical programming to make our system much more efficient and user friendly which is far over what we would have imagined. The staff has been more than willing to listen to us as customers and combining our suggestions along with theirs to give us a product that has been seamless, flawless, and just plain works! So far this has been a great experience and a looking forward to working with MACC in upcoming projects soon to take place. I am willing to talk to anyone anytime to answer questions you might have about our experience. MACC can get you in touch with me.Paul Sexton Building Systems Superintendent County of York

Paul sexton

02:00 02 Feb 18

Best Building Automation Company I have seen.

Marshall Nesgoda

02:34 14 Dec 17
BAS System Upgrades and Recommendations
Every contract customer receives opportunities and recommendations to upgrade their system. This guarantees you keep pace with technology and system developments. It also helps extend the useful life of the BAS system while maximizing ROI.
For more information on scheduled building automation maintenance plans, contact us today.