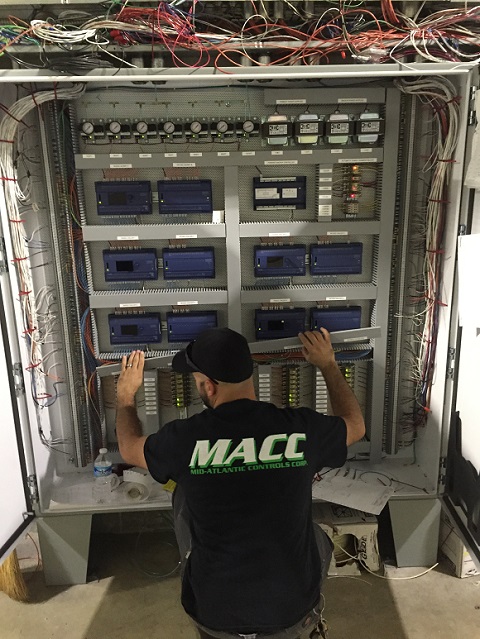 Make your building the best it can be with a Building Automation System (BAS), also referred to as a Building Management System (BMS), or Systems Integrator (SI). Join the numerous Teays Valley clients who are choosing MACC building automation services to:
Save Money and Energy

Keep Occupants Comfortable

Streamline Building Management
Building Automation Systems
MACC is headquartered in Richmond, Virginia, but we serve clients throughout Virginia, Maryland, Washington D.C., North Carolina, West Virginia, Delaware, and beyond. We provide building automation systems and services to a variety of commercial, industrial, government, military, municipal, and university facilities.
Some of the services we offer include:
Design Building Automation Systems

BAS Construction and Project Management

Application Engineering

Panel Fabrication and Pre-Fabrication

BAS Installation & Technical Services

Improve BAS Performance
Learn more about building automation systems and get an estimate for your building or project.
Learn More about Building Automation
BAS Service & Maintenance
MACC gives you greater control over your facility by helping optimize equipment, create system efficiencies, and reduce your operating costs. The goal of our maintenance program is to help extend the life of your building automation equipment, maximize ROI, and help reduce future maintenance costs. In addition, our trained and knowledgeable staff can help identify inefficiencies in your building and identify energy-saving opportunities.
Learn More about BAS Maintenance Plans
Building Automation Upgrades & Integration
Many owners are often faced with the decision to upgrade or replace aging building automation equipment as technology improves and operational needs change. This is especially true for older BAS systems that are being outpaced by current technology. Luckily, we have experience with almost every building automation system that has been installed in the past 30 years. This allows us to provide a less resistant migration path for clients and salvage much of their initial BAS investment.
Energy & Environment

Decreasing operating energy costs of a facility while improving the operational efficiency of the equipment is becoming a bigger and more costly challenge for many organizations.

Through various techniques and services, MACC can help companies save energy and improve indoor environments.

Data Analysis & Visualization

Gathering building data is easy if you have the right systems in place; however, putting that data to use can often be a challenge, especially if you're managing a large facility or several buildings.

MACC's Data Visualization programs create real-time reports that are easy to understand and allow fast, strategic decision making.
About Mid-Atlantic Controls Corp.
Our mission is to provide non-proprietary, open systems to our customers. We want to be a turnkey controls system contractor that self-performs every aspect of the project from installation to ongoing maintenance.
As an independent contractor, we provide solutions from a variety of Building Automation System manufacturers. Our capabilities include servicing and expanding systems installed by other contractors. Furthermore, our track record of on-time quality controlled installations is unrivaled by others and reflects our commitment to clients.
A Few Relevant Case Studies and Blog Articles
Start Your Journey To A Better Building
If you are a facility manager, contractor, or building owner in Teays Valley that's interested in making your building the best that it can be, we're here to help. Contact MACC to start saving money, energy, and streamlining your building management.
Building Automation Equipment
Below are some of the systems we work with. If you do not see your system listed or have older BAS equipment, contact us to determine if we can help.
Here's What Customers Are Saying
Building Automation Systems
★★★★★ 5 / 5 stars
Rated By David
"So far MACC has converted 4 of our buildings from Staefa controls to Tridium N-4. Their sales, engineering, installation, and service personnel both during and since these projects have been outstanding. They are a group of people that have had many years in the HVAC field so they know how systems are supposed to work and have made many upgrades in the logical programming to make our system much more efficient and user-friendly which is far over what we would have imagined. The staff has been more than willing to listen to us as customers and combining our suggestions along with theirs to give us a product that has been seamless, flawless, and just plain works! So far this has been a great experience and a looking forward to working with MACC in upcoming projects soon to take place. I am willing to talk to anyone anytime to answer questions you might have about our experience. MACC can get you in touch with me."