Make your building the best it can be with a Building Automation System (BAS), also referred to as a Building Management System (BMS), Energy Management System (EMS), or Systems Integrator (SI). Regardless of what you call your system, our team of controls experts is available throughout the Mid-Atlantic region to help with all your building automation needs.
MACC is an independent BAS contractor that specializes in commercial and industrial facility automation systems. For most customers, we're able to improve employee comfort while cutting energy costs. Here's why you should consider MACC for your Building Automation needs in Teays Valley, WV:

Keep Occupants Comfortable
Heat, cool, and light the right areas at the right times and see improved productivity and employee comfort.
Building Automation Services We Offer
System Design & Installation
BAS Upgrades & Integrations
BAS Service & Maintenance
Application Engineering
Panel Fabrication and Prefabrication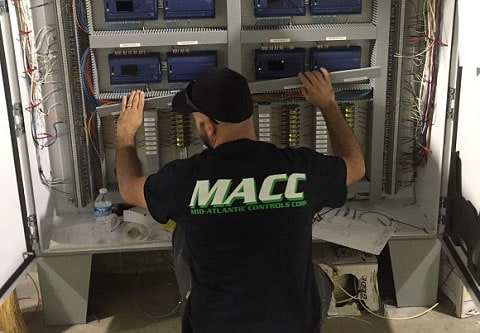 BAS Service & Maintenance
The goal of our maintenance program is to help you extend the life of your building automation equipment, maximize ROI, and reduce future maintenance costs by staying proactive.

BAS Upgrades & Integration
We have experience with almost every building automation system that has been installed in the past 30 years. This allows us to provide you with a less resistant migration path and salvage much of your initial BAS investment.

BAS Installation
Whether you're managing a single building or a worldwide network of facilities, a building automation system will help you integrate operation under a single, easy-to-use ecosystem.

BAS Engineering
Whether you're adding a new building to your BAS system or updating it based on a recent renovation, we can help you determine the most feasible and cost-effective means of utilizing your structures' specific functions.
Start Your Journey To A Better Building
If you are a facility manager, contractor, or building owner in Teays Valley who's interested in saving money, energy, and streamlining your building management, we're here to help!
Customer Testimonials
Exceptional company. My service BAS tech goes above and beyond the call of duty to make sure things are right. Very please with the service.

Davids1964
14:06 04 Sep 18
So far MACC has converted 4 of our buildings from Staefa controls to Tridium N-4. Their sales, engineering, installation, and service personnel both during and since these projects have been outstanding. They are a group of people that have had many years in the HVAC field so they know how systems are supposed to work and have made many upgrades in the logical programming to make our system much more efficient and user friendly which is far over what we would have imagined. The staff has been more than willing to listen to us as customers and combining our suggestions along with theirs to give us a product that has been seamless, flawless, and just plain works! So far this has been a great experience and a looking forward to working with MACC in upcoming projects soon to take place. I am willing to talk to anyone anytime to answer questions you might have about our experience. MACC can get you in touch with me.Paul Sexton Building Systems Superintendent County of York

Paul sexton
02:00 02 Feb 18
Working With Mid-Atlantic Controls (MACC)
As a building automation company, MACC's mission is to provide non-proprietary, open systems to our customers. We want to be a turnkey building controls system contractor that self-performs every aspect of the project from installation to ongoing maintenance.
Our track record of on-time quality controlled installations is unrivaled by others and reflects our commitment to clients.
Building Automation Services Near You
If you are outside of the Teays Valley area, don't worry. We've probably done work near you. You can see some of the other areas we serve in West Virginia by clicking here. We also serve customers in Pennsylvania, Maryland, Virginia, and Washington D.C.